Yellowstone Structural Systems Service Area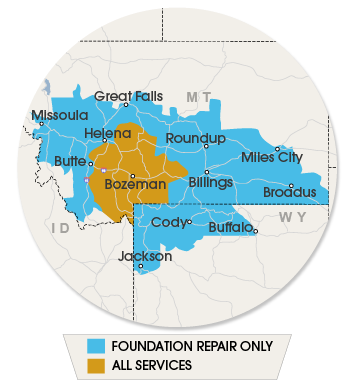 Yellowstone Structural Systems fixes foundation problems throughout Montana and Wyoming and nearby.
Whether you have bowing walls, settling foundation walls, sinking floors or other foundation concerns just contact us today.
Contact us today for your free foundation and basement waterproofing estimate in Bozeman, Belgrade, Big Sky, Missoula, Great Falls, Gillette, Butte, Cody, Livingston, Jackson or nearby!
Beaverhead, MT
Dillon, Wise River
Big Horn, MT
Busby, Crow Agency, Decker, Garryowen, Hardin, Lodge Grass, Saint Xavier, Wyola
Broadwater, MT
Radersburg, Toston, Townsend, Winston
Carbon, MT
Bearcreek, Belfry, Bridger, Fromberg, Joliet, Red Lodge, Roberts, Roscoe
Carter, MT
Alzada, Boyes, Ekalaka, Hammond
Cascade, MT
Belt
, Cascade,
Great Falls
, Malmstrom Afb, Monarch, Neihart, Sand Coulee, Stockett
Chouteau, MT
Fort Benton, Highwood
Custer, MT
Miles City, Volborg
Deer Lodge, MT
Anaconda, Warm Springs
Fergus, MT
Buffalo, Coffee Creek, Forest Grove, Grass Range, Lewistown, Moore
Golden Valley, MT
Lavina, Ryegate
Granite, MT
Drummond, Hall, Philipsburg
Jefferson, MT
Boulder, Cardwell, Clancy, Jefferson City, Whitehall
Judith Basin, MT
Geyser, Hobson, Moccasin, Raynesford, Stanford
Lewis And Clark, MT
Augusta, Canyon Creek,
East Helena
, Fort Harrison,
Helena
, Lincoln, Marysville, Wolf Creek
Madison, MT
Ennis, Harrison, Mc Allister, Norris, Pony, Sheridan, Silver Star, Twin Bridges, Virginia City
Missoula, MT
Bonner, Clinton, Condon, Frenchtown, Huson, Lolo, Milltown,
Missoula
, Seeley Lake
Musselshell, MT
Musselshell, Roundup
Park, MT
Emigrant, Gardiner,
Livingston
, Pray, Springdale, Wilsall
Powder River, MT
Biddle, Broadus, Olive, Otter, Powderville
Powell, MT
Deer Lodge, Garrison, Gold Creek, Helmville, Ovando
Ravalli, MT
Corvallis, Florence, Hamilton, Stevensville, Victor
Rosebud, MT
Ashland, Birney, Colstrip, Forsyth, Ingomar, Lame Deer, Rosebud
Silver Bow, MT
Butte
, Divide, Melrose, Ramsay
Stillwater, MT
Absarokee, Columbus, Fishtail, Nye, Park City, Rapelje, Reed Point
Sweet Grass, MT
Big Timber, Greycliff, Mc Leod, Melville
Treasure, MT
Bighorn, Hysham, Sanders
Wheatland, MT
Harlowton, Judith Gap, Shawmut, Two Dot
Big Horn, WY
Basin, Burlington, Deaver, Greybull, Hyattville, Lovell, Manderson, Otto, Shell
Teton, WY
Alta, Jackson, Kelly, Moose, Moran, Wilson